Would I Drink Around the World at EPCOT Again?
Disney is smart. If you're gonna do a drinking challenge, why not do it at the happiest place on Earth? Not to mention you can travel to eleven countries in under three miles! But when you're five drinks in, barely halfway through, and the crowd, the heat and the cost is starting to get the best of you, you might start wondering – why am I doing this? Is it pride? Is it the need for the badge of honor? Or is it simply because once the challenge is started, the show must go on?! Here's Bruce and I's take on what it's like to drink around the world at Walt Disney World's EPCOT.
We were there WAY too early
In some ways, this ended up being a good thing because Thanksgiving weekend is packed and B wouldn't have gotten to ride the major rides (Test Track and Mission Space) if we weren't there for the rope drop. He literally RAN with the rest of the crowd to get a spot in line before it got crazy. As I sat and waited for him to finish the ride (he was in one of the first cars, yay single rider!) I watched the wait time tick up to 120 minutes! Early bird gets the worm. However, after the 30 minutes it took him to ride those two rides, we still had a few hours until the World Showcase opened for business (11am).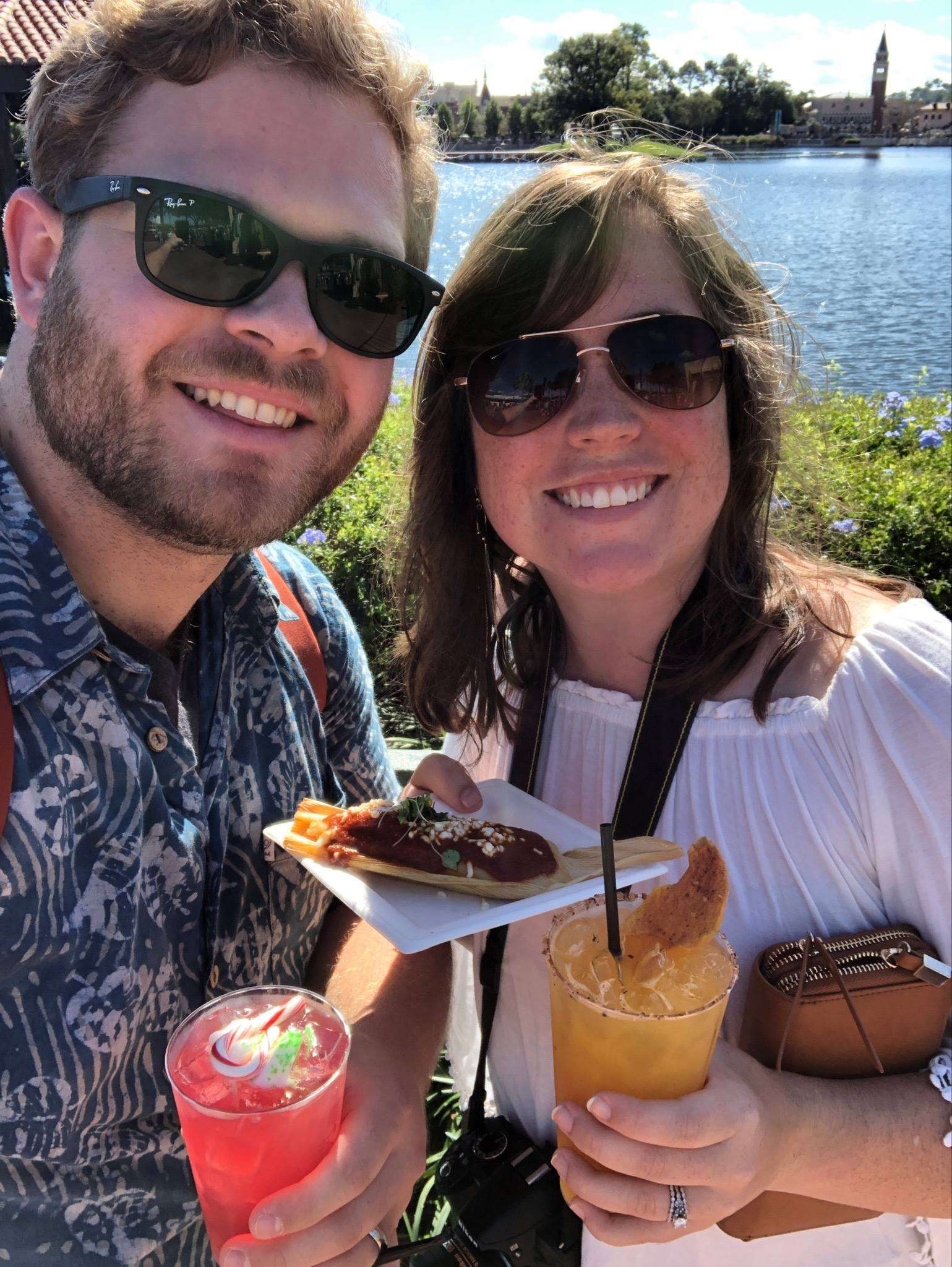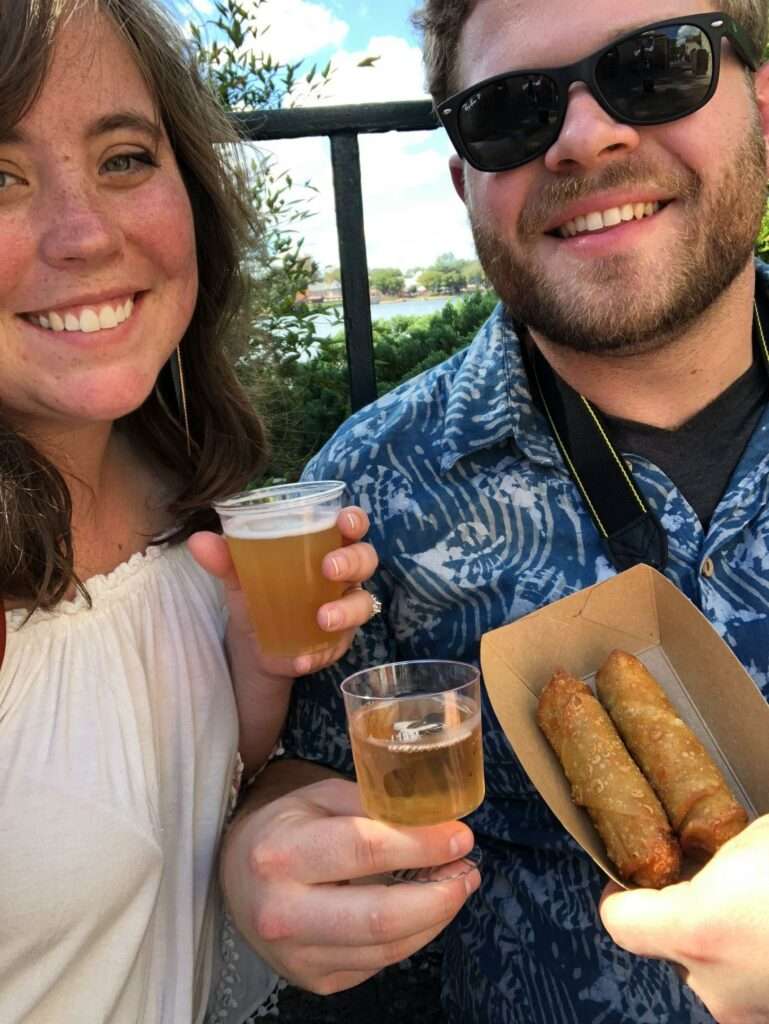 Starting with Mexico's Margaritas
We started in Mexico at the suggestion of a friend who does this trek often. Apparently, ending with a margarita is not the best strategy (beer before liquor… well, you know the rest). And any day that involves a morning marg, count me in. The margaritas were excellent, and strong. I'm talking, you could just drink two of those and have a GREAT day at EPCOT. But, we were on a quest. We finished our tamales from the Festival of the Holidays booth, drank our margaritas and pushed onward to…
Norway's Beer
We quickly realized we drank the margaritas too fast and would have to slow our roll if we were going to survive the day. So, we watched a performance, went through the shops, took some pictures and got a Norwegian beer to share. B also tried Norwegian school bread (a classic treat, like a sweet dinner roll filled with cream). It was awesome.
China's Wine (and Beer!)
Once again, we went through all the shops and took in the sights and sounds (including an awesome Chinese New Year lion dance!) before settling in for some food and drink. I tried the jasmine beer and B had plum wine. Add in some fresh egg rolls on the side, and, all in all – a solid stop on our journey.
Germany's Biergarten
This is a country we've actually visited before, so we were excited to see if there were some of our favorites to be found. After perusing the shops in the Bavarian styled market place, we got a German beer to share, with a commemorative mug (a trophy to remember our conquests). For food, we sampled some delicious sauerbraten, spaetzle, and cabbage. B would have gotten a giant pretzel, but we had to keep pace on this marathon of food and drink!
Italy's Wine
Who doesn't love Italian Food? Especially when it means a mozzarella grilled cheese with homemade tomato sauce and Prosecco. Yep – I'll just order one order of that, everyday for my entire life, thank you.
America- Questioning our Mission
Did we need to eat and drink in America? No. Do we eat and drink in America everyday? Yes. Was it part of the challenge so we did it anyway? Absolutely! Like I said guys, Disney is smart. Despite it being our home country, the fare did not disappoint. We enjoyed a tiny Thanksgiving feast and chocolate porter at our patriotic, halfway marker.
Calling it Quits or Pressing Through
When we got to Japan, we honestly weren't sure if we were going to be able to finish the "Drink around the World" challenge. We were full, it was getting crowded, and the notoriously little shade offered at EPCOT meant that the sunny, 75 degree day was feeling hotter every second. We took a little break, B got me some water and we hung out in the shade. Feeling a bit better, we shared a frozen beer (it was as weird as it sounds), and limped forward.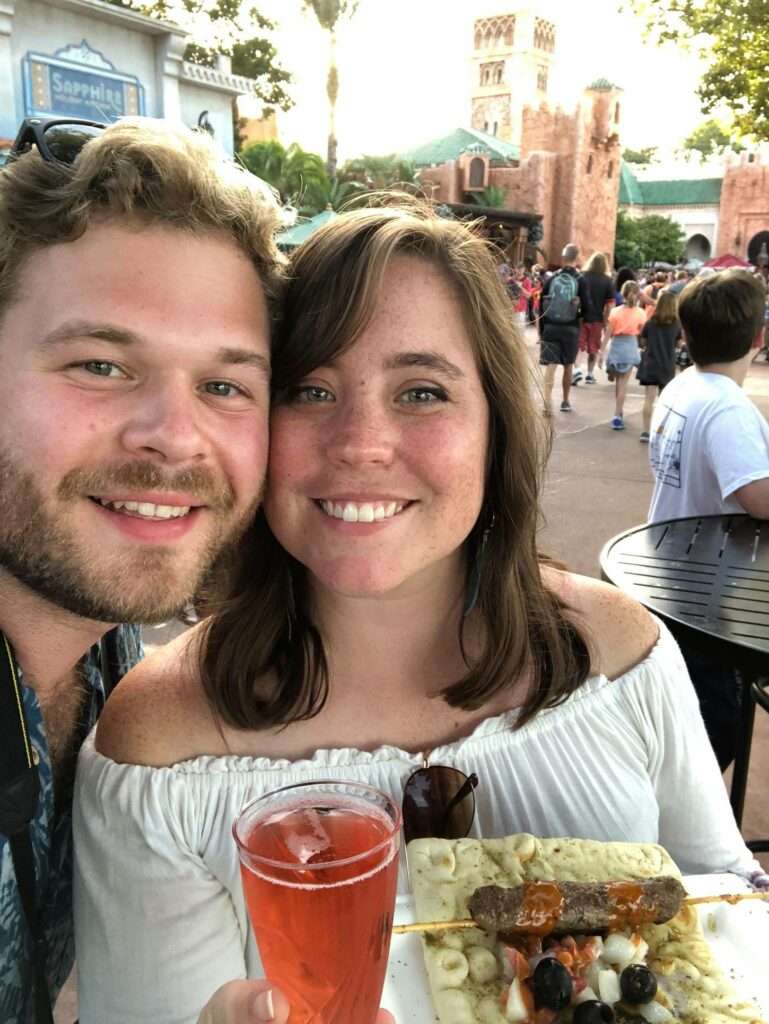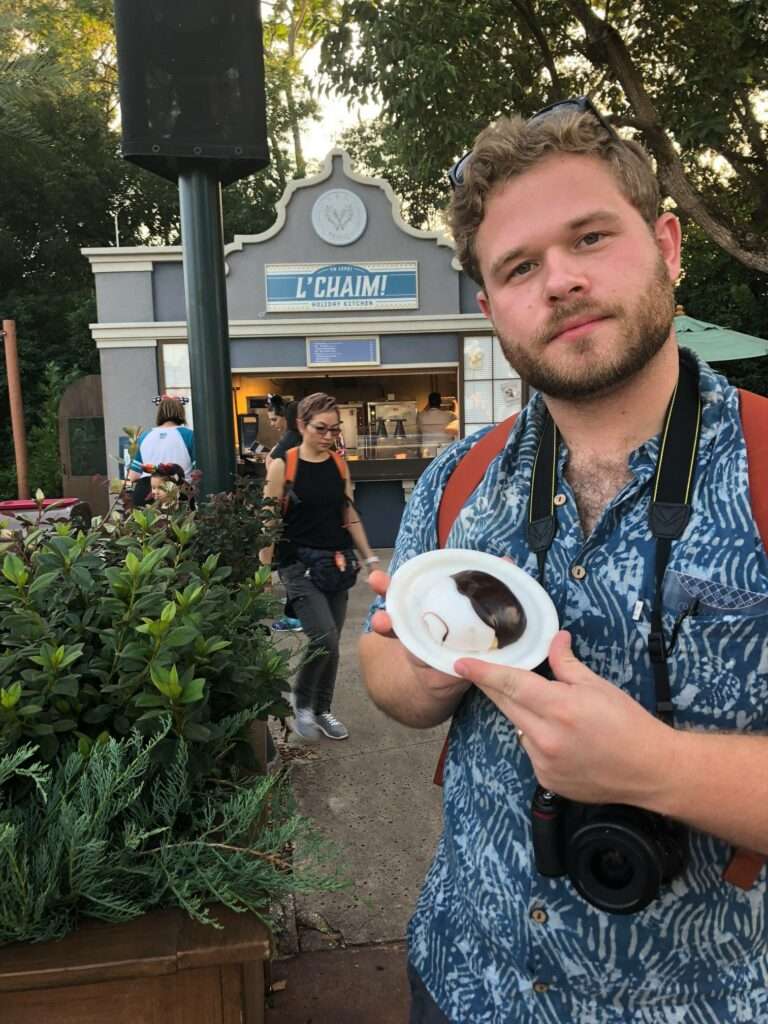 Recovering in Morocco 
We don't know if it was the smells, the colors or the music (maybe the H2O in Japan!) but something came alive in us again in Morocco. We excitedly went through the outdoor market, which I think is the coolest set up of all the countries, and watched a Moroccan band perform, bringing the streets to life. For eats, we got a lamb kabob, pita and sparkling wine (round 2!) with orange liquor, cranberry, and orange blossom water (The Andalusian "Poinsettia" Cocktail). AMAZING.
L'Chiam Booth- Bonus
There was a small booth set up between Morocco and France, dedicated to kosher foods and Hanukah. This wasn't part of the original challenge so we mostly skipped it for our liver's sake, but B got a cookie (he can't resist the sweets!).
France's Sparkling Wine
Ah, the land of my people! To start, I got some more sparkling wine (round 3!), this time with Monin cranberry syrup (Holiday Kir), and B got a Bouchee a la Reine Traditionnelle (don't ask me to pronounce it!). Essentially, a delicious puff pastry with turkey and mushrooms. I only had a bite (not into mushrooms) but B loved it. This was about the time in our trip where we began making plans to get a season's pass. You could say we were smitten (perhaps the Eiffel Tower was enough to push our love over the edge).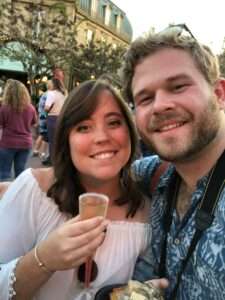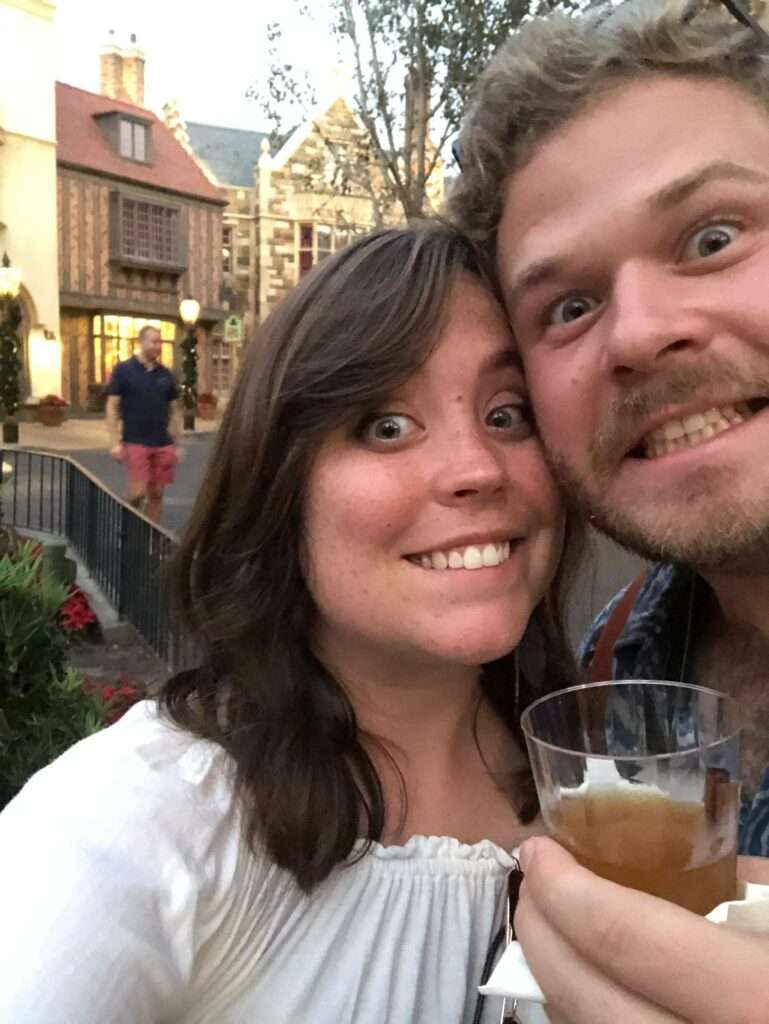 Great Britain's Drambiue 
A friend called me to talk about season passes and Bruce drank half of this drink without me (maybe that was for the best)! This was a Twinning's tea and Drambuie cocktail. YUM. Perfect for the holidays. We would have gotten the famous fish and chips here, but we were pretty full by this point. Also, we have a pretty authentic fish and chips place back home, so we skipped it (this time).
Oh Canada! We Made It!
Finally, we made it! We've been to Canada at least a dozen times, so we didn't feel the need to sample much here. We got a beer (Unibroue) to wind down and called it a day. Next time we'll definitely get the maple popcorn. Rumor has it you can refill your Disney popcorn bucket with maple popcorn for the same price as regular popcorn, which is a steal!
Woo! If you're still with me, you should give yourself a pat on the back. Now, as fun as this all sounds, the article was titled "would I drink around the world again?". My answer is no, and here's why: There are some GREAT drinks and food offered in all of these countries. Instead of trying to beat the challenge of having to get something in EVERY country, next time I'll focus my efforts on exactly the things I really want. After awhile, what could be a delicious experience turns into a forced purchase, with an increasingly stuffed belly, just to check it off the list. Not to mention, we overshot our budget a bit. It was awesome to conquer the challenge once for the bucket list, but next time, I think we'll skip some things (I'm lookin' at you, frozen beer) and pace ourselves without the pressure.
Have you ever drank at Disney or thought about doing the "Drink Around the World" challenge? Would you do it again? Leave your thoughts below!