I was on my lunch break and checking flight prices (like ya do), when suddenly I saw it – a flight to Germany for $500. The dates were perfect. The airports matched our itinerary. But what's this? An 18 hour layover in Iceland?! "That will cut into our time in Europe!", I thought. But the more and more I thought about it, the better it sounded. I could make this into a trip in and of itself. The pressure was on. The Mission: tour the Golden Circle and make it back to the airport in 18 hours. After hours of research, I feel confident that this is the best way to tour the golden circle on an Iceland Layover.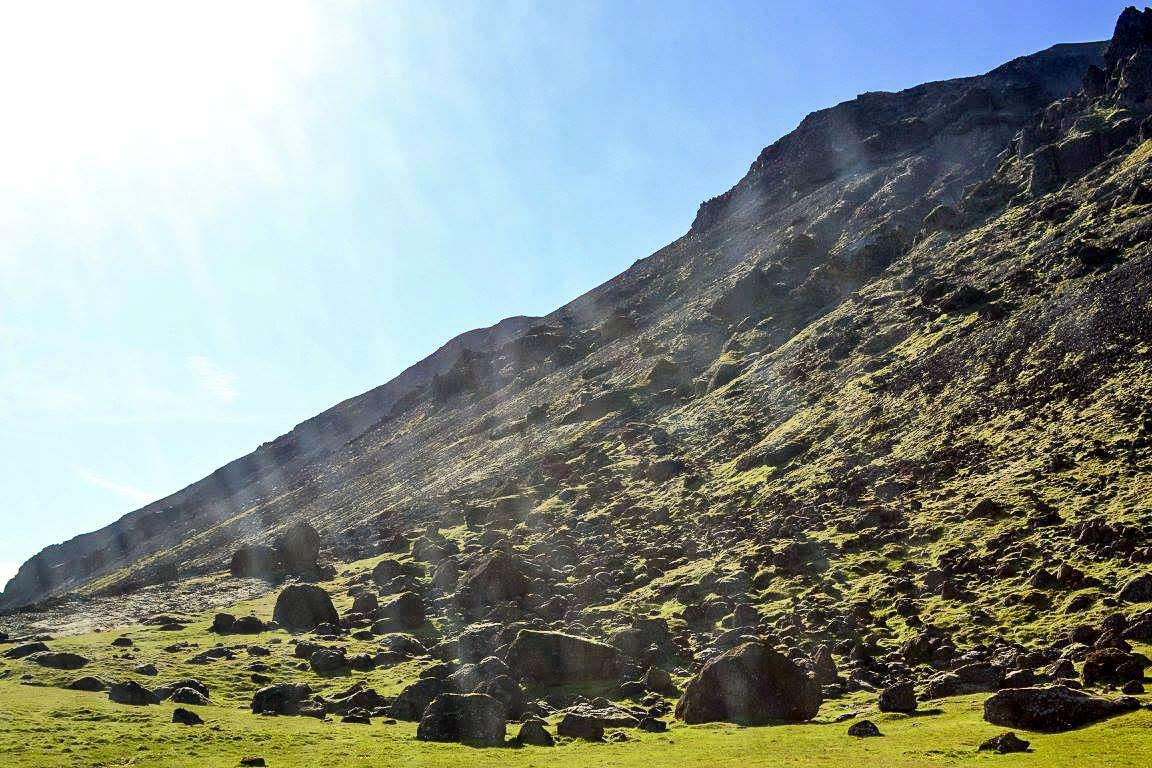 The Landing
We landed in Reykjavik at about 6am (Iceland time) after a flight across the Atlantic from Boston International. Sleepless night are a guarantee on overnight flights, so without more than a few hours of shuteye, we started on our journey. First stop, pick up the rental car. Something you should know about Iceland is that it's super expensive. Like everything. So after some research, I booked the cheapest rental car I could find. It cost about $100 a day, but had unlimited miles (a must for our road trip plans). This place had mixed reviews, but we had no troubles with it at all. By 7am, with coffee in hand, we started out on the open road. 
Pro Tip: We usually don't buy insurance on rental cars but this is a MUST DO in Iceland. They say 30% of rental cars end up with windshield damage from rocks on the road. Don't chance it- trust us, it is not worth the stress.
First Stop: Þingvellir (Thingvellir) National Park
Þingvellir is what dreams are made of and the first stop on the Golden Circle. This National Park and UNESCO World Heritage Site is where the Icelandic people declared their independence, confirmed their first president and where they abandoned their Norse religion under threat of the Norwegians. Beyond the historical and political significance of this site, Þingvellir is also a geological gem. It is here that you can walk between continents. Because Iceland is on the edge of the North American and Eurasia tectonic plate system, you can literally walk between the two worlds. It is truly beyond words to stand at this site and take it all in. But we can't stay for long, our journey has just begun.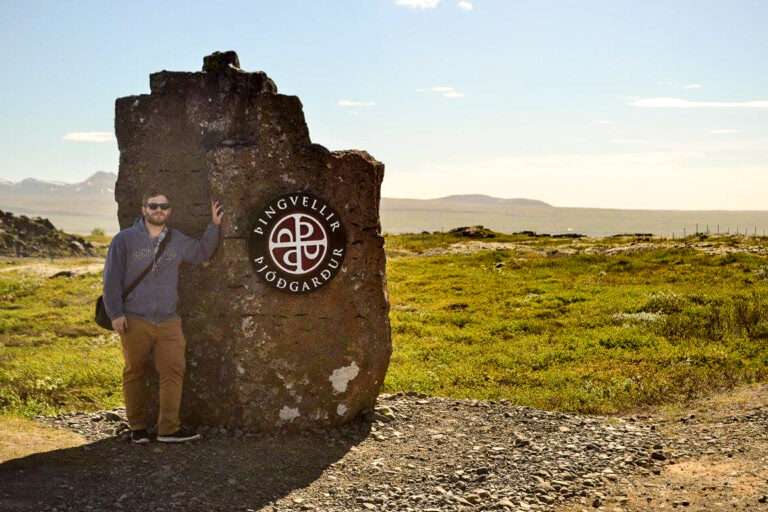 Stop 2: The Great Greysir
About an hour from Þingvellir is the second stop on the famous Golden Circle, the Geysir Hot Spring. The Geysir hot spring is actually where the rest of the geysers around the world got their name. Even though Geysir has been in a dormant phase for a few years, there is still Strokkur, another geyser on property that erupts about every 10 minutes. Strokkur sends a stream of boiling water up to 130 feet in the air, and it is a sight to see. After the main show, we walked around the area to see the smaller bubbling patches of water, which were also quite interesting. Although there was a gift shop and restaurant at this stop, we weren't sure if we wanted to spend the $25 on fish and chips, so we jumped back in the car and took off!
Lunch Stop!
Although Geysir and Gullfoss are only about 10 minutes apart, we wanted to get food before heading to the final (official) stop on the tour. We thought we saw a sign while driving to Geysir so we actually went backwards to see if we could find it. As luck would have it, we did find it. And what a find it was! Friðheimar is a small tomato farm that is really an experience, all on its own. We were greeted with rows of tomato plants in an idyllic setting. There were horses grazing, glasses clinking and a nice breeze through the shade of some nearby trees.
We had definitely found our lunch spot. We quickly found out we were not the only people who had found this place, as the seating was full inside. Luckily, they have an option to get their food to go and sit outside, which was fine for us (it was actually cheaper!). They only had two options: Tomato soup and Ravioli. We got one of each and they were incredible. I'm not even a huge fan of tomatoes but, oh my was it to die for. After taking in the sights and smells for a while, we headed on our way to our last Golden Circle stop.
Stop 3: Gullfoss Waterfall
There's almost nothing that can be said to describe the Gullfoss waterfall. When I sent a picture of it to my dad, he remarked that it was very pretty. It wasn't until I pointed out that the little dots on the screen were people, that he truly understood the magnitude of this place. You could probably spend an entire day here just taking it all in. If it is not already on your bucket list, it should be now. We spent the most time here, hiking the various locations and trying to see all we could before we headed back to the airport. 
Bonus Stop: Secret Lagoon!
If you have ever looked up Iceland, you have heard of the Blue Lagoon. The Blue Lagoon is a geothermic run off, hot spring that gives off an amazing blue tint. Instagram gold! We skipped the two major hot springs (The Blue Lagoon and Sky Lagoon) because we were trying to keep costs low and they are both pricey. Next time we visit Iceland they are on our must do list! Enter: Secret Lagoon. The Secret Lagoon is only 30 minutes from Gulfoss (back towards the airport), so it seemed like a no-brainer. There was a bar and snack stand, so of course we took full advantage of that and each got our first Icelandic beer.
**This is definitely a no-frills kind of place. I didn't feel like it was very touristy and a lot of families were hanging around, relaxing by this beautiful hot spring. So while it might not be "Instagram Gold", it is worth a stop.
After we spent a few hours, relaxing by the hot spring it was time to head to the airport. The car rental was incredibly easy to deal with and we made it back with enough time to talk to a very friendly, Polish bartender (who spoke 7 languages!).
And this was just the beginning of our European adventure. If you want to spend more time in Iceland, make sure to check out our article on how to choose a good accommodation.
Did we miss anything on our tour of the Golden Circle? Let us know in the comments!