When I first started selling cruises over at Magic Pass Travel Co, I hadn't even been on a cruise myself. So when we were forced to cancel our Scotland Honeymoon in the wake of COVID-19, we decided it was time to try out a cruise. But this couldn't be just any cruise- it had to be a cruise that was honeymoon- approved. So we "settled" on a Mediterranean Celebrity Cruise aboard the APEX. Next stop, Athens!
Overview: 
Class: New Luxury- this means its modern and luxurious "instagrammable" so to speak.
Cost: Moderate ($700-$2000 for inside staterooms)
Ship: APEX- this was the inaugural season for this ship so we were definitely spoiled.
Itinerary: Greek Islands (with a surprise stop at Dubrovnik, Croatia- more about that later!)
Honestly, I'm not sure how you would have a more beautiful ship. The attention to detail here was amazing and each section of the ship has it's own vibe. From the rooftop gardens to the multiple entertainment spaces, this was an incredible ship through and through. 
COVID Protocols
Although COVID cases were few and far between when we went in the summer of 2021, I felt extremely safe aboard the APEX. All passengers were required to be vaccinated. All passengers were tested before boarding with a rapid test (at the cost of Celebrity) and all passengers were tested before disembarkment (a requirement of re-entry into the US, again at the cost of the company). Masks were worn in indoor spaces and the ship was less than half capacity, so social distancing wasn't an issue.
This was incredibly easy and stress free to figure out. We have travel abroad on our own as well during the pandemic and finding available tests that meet country requirements can be a hassle. Celebrity makes this easy on you and sets it all up. All you have to do is show up. 
**These are outdated as of 2023, but I still think the attention to detail is something to be noted here**
Itineraries
Originally our cruise was going to three Greek Islands: Santorini, Rhodes, Mykonos and Cyprus. In my opinion, this is a great itinerary. It allows you to get a feel for the more touristy of the Greek Islands (Santorini and Mykonos), while also showing you some of the lesser known destinations (Cyprus and Rhodes). However, Cyprus closed to tourists as soon as we boarded the ship and Celebrity quickly "upgraded" the itinerary to Croatia, at no additional cost. I think this shows the level of customer service for this brand and it was a great replacement. I've seen other ships do multiple days at one port or even add another "at- sea" day when ports close, so I think this is definitely a benefit of choosing Celebrity while COVID is still a problem. 
Excursions: 
Honestly we weren't going to do any excursions. We've always explored on our own and we wanted to venture out solo. However, due to COVID, to be allowed off the ship, we had to do an excursion in Mykonos. We decided on a low cost (less than $100pp) visit to an Orthodox seminary and a quick drive around some of the bigger sights. We enjoyed the excursion, it brought us somewhere we wouldn't have otherwise found, and our tour guide was very knowledgeable. We still would have preferred to explore on our own though for these destinations!  
On our own, we were able to take a bus to Oia and hike down to Amoudi Bay for lunch, kayak the Mediterranean Sea and eat some amazing Bosnian food. Some people claim that you aren't able to really go out and explore from cruise ships, but we disagree. Depending on the location, it can be a great place to start your explorations! 
Food and Drink
This is where Celebrity shines the most. First of all, the new fares all include the basic drink package. This will get you most any drink under $9, with the option to pay the difference if you want a drink over the limit. If you are going to mostly be drinking beer and wine, this is a great option for you and is no extra cost. A win-win! However, Bruce and I are all about the cocktails and we wanted to live it up! For an extra $11/day for each of us, we upgraded to the premium drink package. Most cocktails were right at $15-20 so we figured 2 cocktails a day would have put us over the cost and let me tell you- we got our money's worth here. With multiple bars throughout the ship (our favorites being the Martini Bar, the Craft Beer Bar and Eden), we never ran out of fun concoctions. And let me tell you, these are not the watered down drinks you get at some all inclusive resorts. The drinks are made with top self liquors (Woodford Reserve, Tanqueray 10 and Grey Goose to name a few), and they were strong. 
The food was also top notch. On the APEX they have four restaurants included in the original cruise fare so you can sample different cuisine each night. They also have a number of paid extra restaurants but we didn't feel they were necessary as we had plenty of choices in the included fare. The buffet was also amazing and included a carving station, bread stations, sandwich, salad, hot bar and asian cuisine every day. We honestly chose to eat dinner here some nights instead of the formal restaurants if we had something planned for the evening!
Entertainment:
As a musical theater person, I was slightly disappointed to find out that there weren't any full productions on this ship. There are musical reviews that are top notch but I would have loved to see an actual musical like is offered on many other ships. That being said, there was no shortage of entertainment on this ship. From aerial artists, to comedians, to magicians, Celebrity APEX truly had it all. We never ran out of things to watch, or participate in. Our favorite activities on board were the trivia, escape room and dance parties! We also enjoyed archery, putting, on board lectures and family feud style games.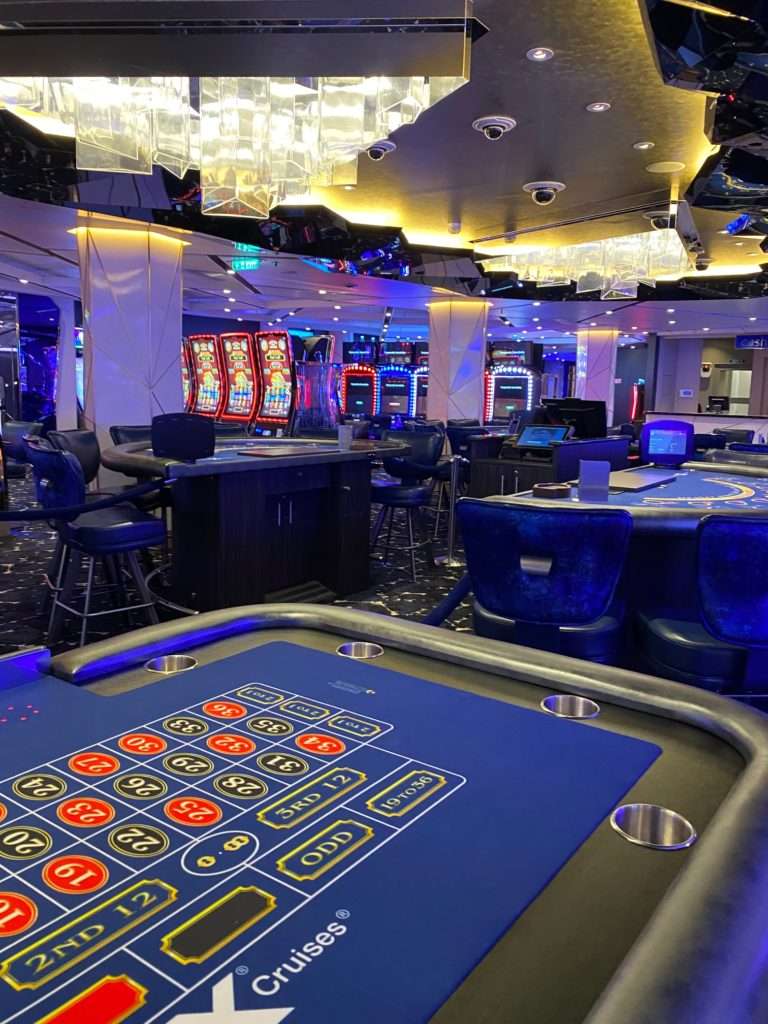 Casino:
I've never been to an "actual" casino so this was my first experience playing cards that wasn't at our kitchen table. The dealers were very kind and understanding of my many questions and offered lessons in each of the games during the day. We were also given some free play vouchers to try out so we could decrease the learning curve a bit. Overall, a great experience! 
Would we recommend it? 
Overall I rank Celebrity APEX very high, only taking off points for lack of musicals and some of the other entertainment options you find on other ships. That being said, our experience was next to perfect, even in a COVID world. I would 100% recommend this company if you are looking for a great way to explore the Greek Islands, or if you're looking for a more all-inclusive experience that still allows you to explore multiple areas. If you're looking for a tranquil, upscale, adult cruise experience, look no further than Celebrity APEX.