When I found out there was a new cruise line out of Miami and not only was it adults only, they also had one of the most extensive food and cocktail programs on the sea- I had to check it out. After Virgin Voyages sent us a really great deal giving us a bank of "sailor loot" and a balcony room for under $3,000- I knew it was the time to check it out. Next stop- Puerto Plata! 
Class: New Luxury- this means it's modern and trendy. "Instagrammable" so to speak.
Cost: Moderate ($700-$2000 for inside staterooms)
Ship: Scarlet Lady (all ships are set up the same!)
Itinerary: Dominican Daze (Miami, Puerto Plata, Bimini Bahamas)
This ship shines in its attention to detail in the various hang out areas. Unlike most cruise ships which have a big promenade in the middle and the design flows from that central station- the Virgin ships are designed to have small, separate spaces that have their own feels. This makes the ship feel more like a multi-room club or bar, more than a large resort. The ship is pretty cheeky and they definitely play off the fact that it is adult only. You'll find a lot of adult puns around the ship and the entertainment crew doesn't hold back with adult language, at times.
Itineraries
When we were looking for a Virgin Cruise, we only found 3 itineraries out of their home port of Miami. All the itineraries stopped in Bimini for their private beach club. The other itineraries were Riviera Maya, another 5 day cruise which included a stop in Cozumel and Fire and Sunset, a 4 day cruise which included a stop in Key West. We did cruise in the first year of the launch of the cruise line so they've added itineraries since then. I always like to do week long cruises because I feel like it takes a while to settle into the ship so I would look at a 7-9 day cruise if I were going to go again! 
We had mixed experiences in the ports. 
Puerto Plata had a nice outdoor shopping area right off the ship, but when we tried to venture outside of that area, we immediately felt unsafe. This is actually the only place we've traveled where we've felt unsafe. The armed guards at the sidewalk crossing didn't scare us off (this is fairly common in different countries), but we were the only ones at the time who had left the cruise terminal and everyone in the city was calling to us. They were stopping on the streets to ask us to book their tours, or come into their shops, etc. We walked the couple blocks to the church at the top of the strip and immediately went back to the ship to leave our cameras. We had an excursion planned so we weren't too upset about not wanting to explore the town and we got a quick drink at the shopping center before heading on to the excursion. 
Bimini was a beautiful and quiet island. We were shuttled over to our excursion and then to the Beach Club so we didn't see much of the island beyond that. The Beach club was incredible though. They had ample seating around the beach, different bars (which linked to your on ship account), a big pool and plenty of places to take pictures for social media. As a beach club that's frequented by reality shows you could really see the trendy touches everywhere. It was an amazing place to relax and soak up the last minutes of the cruise life.
Excursions 
This is a place I think Virgin really shined. First of all, their cruises have distinct markers that they use throughout their excursion portfolio. The markers include: Cultured, Daring, Energetic, Relaxing and Richard's List (usually expensive, once-in-a-lifetime type experiences). Many of the excursions fall under many of these markers, but I like how they are categorized. We went for daring and energetic for both of our excursions, which included Swimming with Sharks and snorkeling a shipwreck in the Bahamas, and Jumping/Sliding down the Waterfalls of Damajagua. Both of these excursions were top notch and a highlight of the cruise. 
Food and Drink 
The food and drink program was another top notch experience on Virgin Voyages. Unlike most cruises, Virgin includes all of their restaurants in the price of the cruise- there is no speciality dining here. That being said, there were items that were marked "treat yourself" where there was an upcharge (like a seafood tower or Lobster). 
The food was the best I've had at sea, hands down. The only restaurant we weren't completely blown away by was Razzle Dazzle, but it was still a solid meal. Our absolute favorites were Pink Agave, Extra Virgin and Test Kitchen. For Test Kitchen we opted to add a cocktail pairing for $35/person and it was such a fun night! I've never had this type of chef's tasting menu experience and it was such a low risk way to try this type of meal (since it was included with our cruise!). Honestly, I could have eaten at Pink Agave and Extra Virgin every night and been completely happy. Pink Agave is based on Mexico's food scene (you'll find a lot more than tacos on the menu!) and Extra Virgin is full of handmade pasta (we were able to get 4 small portions of different pastas- talk about a food coma!). 
Entertainment
Virgin has a different approach to entertainment (can you feel a theme here!). Instead of having a Cruise Director, like most major cruise lines, they have a team of entertainers. These entertainers, named things like The Gamer, The Diva and the Hostess, host different events throughout the cruise. There were things like Trivia (our favorite!), a group mural to color (and take home part of it), an art show, a cabaret performance and even a fake marriage (definitely R-rated- remember adult's only!). Overall we had fun at the different events, but we missed the traditional shows of other cruise lines. The ship was definitely set up to meet other cruisers and create events together, like reserving private karaoke rooms. There was only one "big" show in the theater and it was an amazing acrobatic retelling of Romeo and Juliet. While it was incredible, I left the cruise wanting more of that type of entertainment, not just the smaller shows in the bars or the pool parties on deck. But that's just us! You know we're show people at heart so take it with a grain of salt. 
Another thing we were slightly surprised at was the lack of things to do during the day. Usually cruises are packed with activities (like an escape room and archery on our Celebrity Cruise) but we were often left wandering around the boat trying to find something to do besides hang out in the crowded pool areas. This might have gotten sorted out as the line has found it "sea legs" (again, we cruised in the very first year of the line!). 
In terms of themed nights, Virgin offers a "Scarlet Night" where cruisers dress up in their signature color. This is a fun night full of surprises (this was the night of the R rated fake marriage!). You can find free drinks, random dance parties and everyone going full in on the Scarlet theme. 
Casino
The Casino was a beautiful space that we never actually used! You'll find all the typical on sea casino offers here- including happy hour type deals and 2 for 1 buy-ins. Recently they have also started offering a poker room saying "Exclusively on Scarlet Lady – WPT at Sea Poker Room – Located in The Den. Featuring 8 professionally staffed Poker Tables for all Sailors to Enjoy. 
And like most cruises, if you've never played or want to brush up on some skills, the dealers will teach you the games while you are in port (you can only gamble on international waters)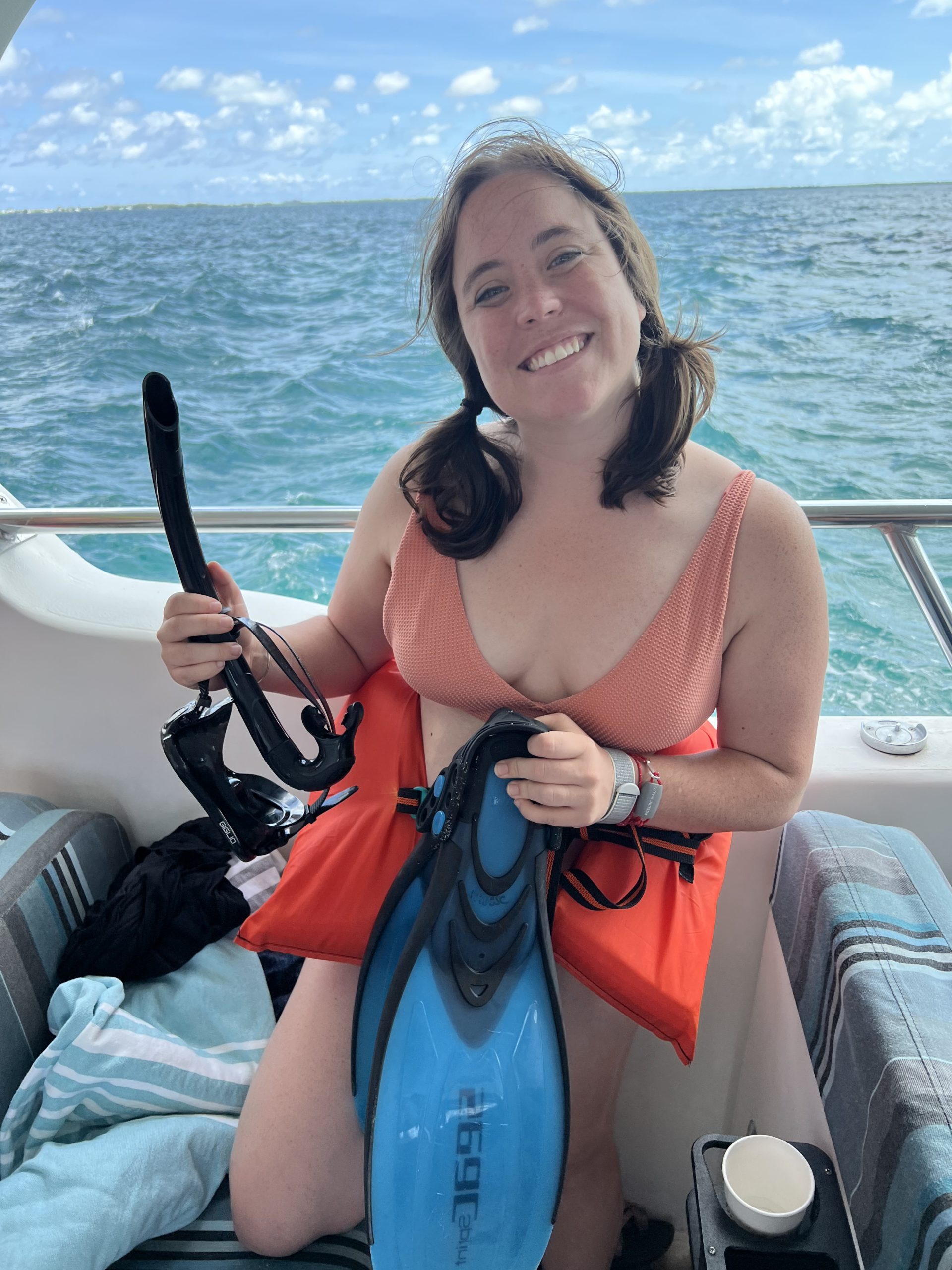 Would We Recommend? 
Virgin Voyages is truly a cruise line for people who don't like to cruise. While long time cruisers might miss the traditional entertainment and flow of the resort style ships, they'll also love the incredible food choices and next level excursions. However, this cruise is not for the faint of heart. They definitely play up to the adult themes around the ship and in the entertainment. Things like drag brunches and an "adult swim" style dance party might not be everyone's cup of tea. But for those who enjoy the Miami nightclub lifestyle, you couldn't find a more fun way to spend a week exploring beautiful islands. 
What do you think? Would you enjoy a few nights on the sea with this adult's only cruise? Let us know below in the comments! Or book an adventure right from here!