Badlands National Park is situated in South Dakota about 40 minutes outside of any "major" town. While there are limited accommodations and eateries in the area, it is a great place to unwind and take in the incredible views. 
Badlands National Park is not very big (when compared to other National Parks) so the hiking here is fairly limited. That's why it makes for a perfect weekend destination. We've been to quite a few national parks and the Badlands are truly like none other. Here are our favorite things to do if you only have a weekend in the Badlands!
Hiking The Notch Trail
This is by far the most popular hike in the Badlands, the Notch Trail is a little over 1 mile and only a little over 100 feet of elevation gain, so it is *relatively* easy. That being said, it does have a mandatory latter that you must use, which can be a bit daunting at first. 
I recommend getting here as early as possible to beat the crowds. We had the place to ourselves when we hiked at about 7am- as we were leaving though it started to really fill up. This is one worth getting up early for!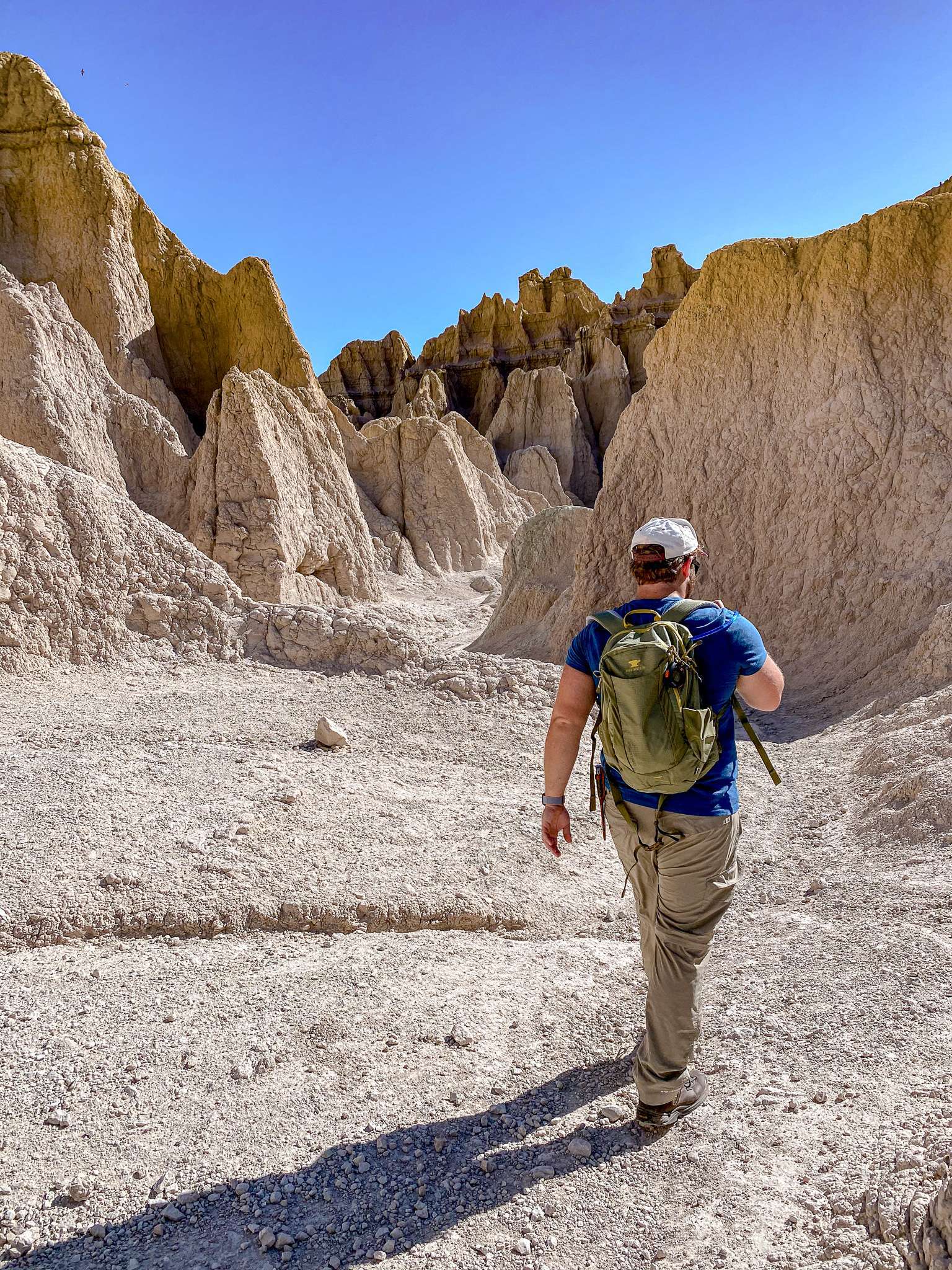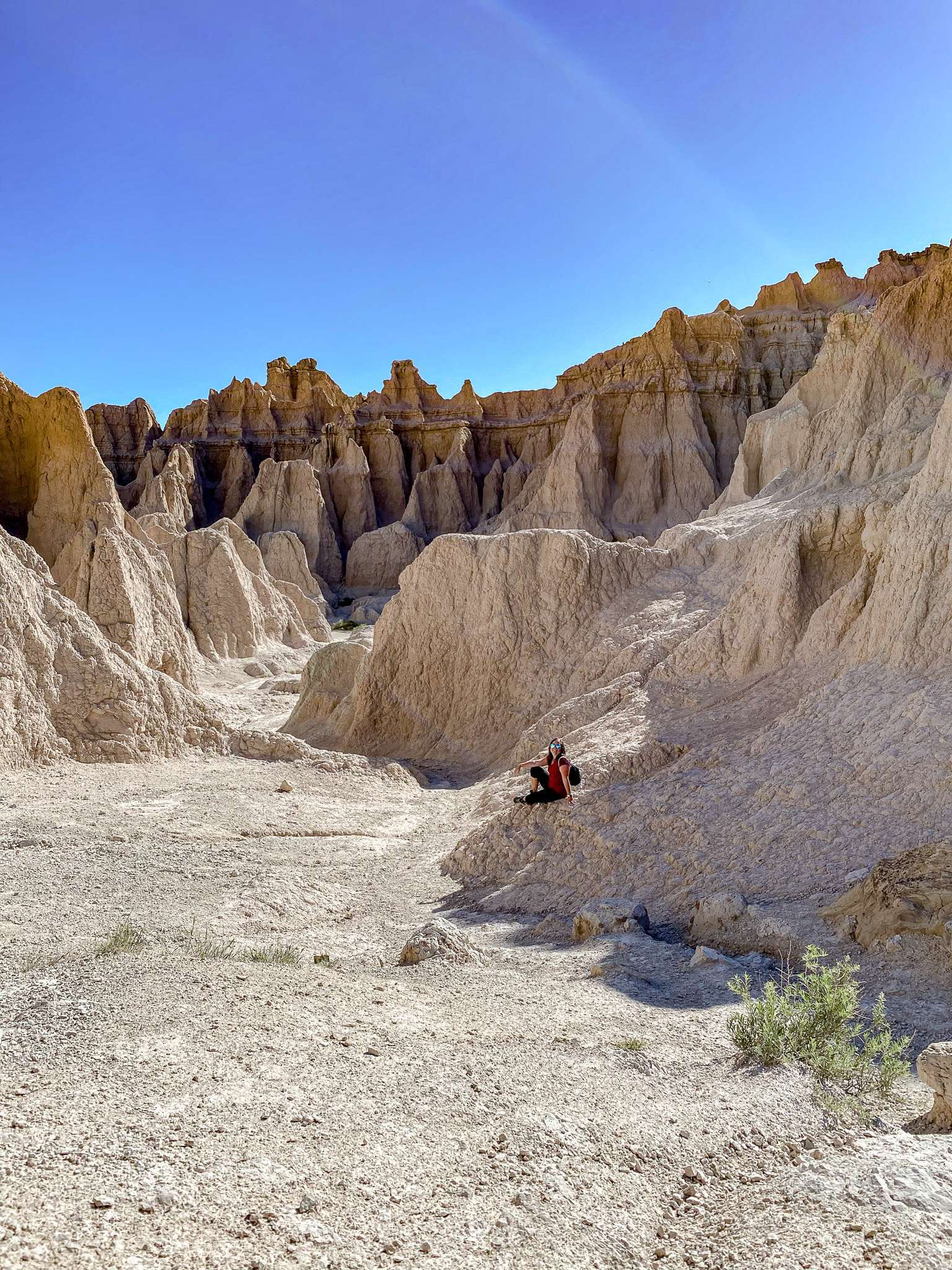 Hiking Castle Trail 
This trail is almost entirely flat so no worries about elevation gains but it is a 10 mile trek. You'll see every type of terrain in the Badlands National Park, and we also saw some Prairie Dogs, Deer and Bighorn Sheep on our hike! This hike starts near the trailhead of the Notch Trail (just across the street) and takes you all the way to the Fossil Exhibit Trail. We decided to take a little detour and do the Saddle Pass Trail to access the outlook there. This added about a half mile on to our trek and it is STEEP getting up there. However, it's short (less than half a mile) so for us, it was worth it! 
How to Avoid a Serious Travel Fail Here:
The Castle Trail is technically a backcountry trail and will require you to "sign out" at the trailhead in case a ranger has to come looking for you at the end of the day. Don't let that worry you too much though, it is just a safety feature. I will say, because this is a 10 mile hike (the longest in the Park) and you are essentially in the desert, WATER is the most important thing here. Everyone in your group should have at least 3 liters of water for this hike. Each person. 3 liters. Trust me, Bruce and I thought we would be good with our 2 liter bladder and 2 full water bottles and we nearly had to call the ranger station to help us out of there because of the dehydration. Don't make our mistake and PACK WATER.
Drive Badlands Loop Road (Highway 240)
After your hike, consider driving the best "loop" in the Badlands. This loop takes you around the middle of the park to many pull off spots and some of the best views in the entire park. It takes about 1-2 hours to complete the entire loop, and it is well worth the time. Our favorite outlooks here were: Big Badlands (near the northeast entrance to the park), White River Valley, Yellow Mounds and Pinnacles. If you only have a weekend in the Badlands and are looking for the best "bang for your buck" this drive is it.
If you don't have time to really explore the Badlands this is the activity you want to focus on. This road will show you what the Badlands has to offer in a small, easy to follow trek. 
Driving Sage Creek Rim Road
Another scenic driving route is this dirt road that leads you to some other overlooks. This is where you are mostly likely to see wildlife. We saw prairie dogs, mountain goats and our first herd of bison! If you are interested in wildlife- checkout Robert's Prairie Dog Town to get up close and personal with some prairie dogs! 
This is a dirt road so it may not always be accessible. Check weather forecasts and know you vehicle before embarking! We didn't go the entire Rim Road. In fact we saw all the wildlife at the very beginning of the trek so you may be able to swing it even on a rainy day.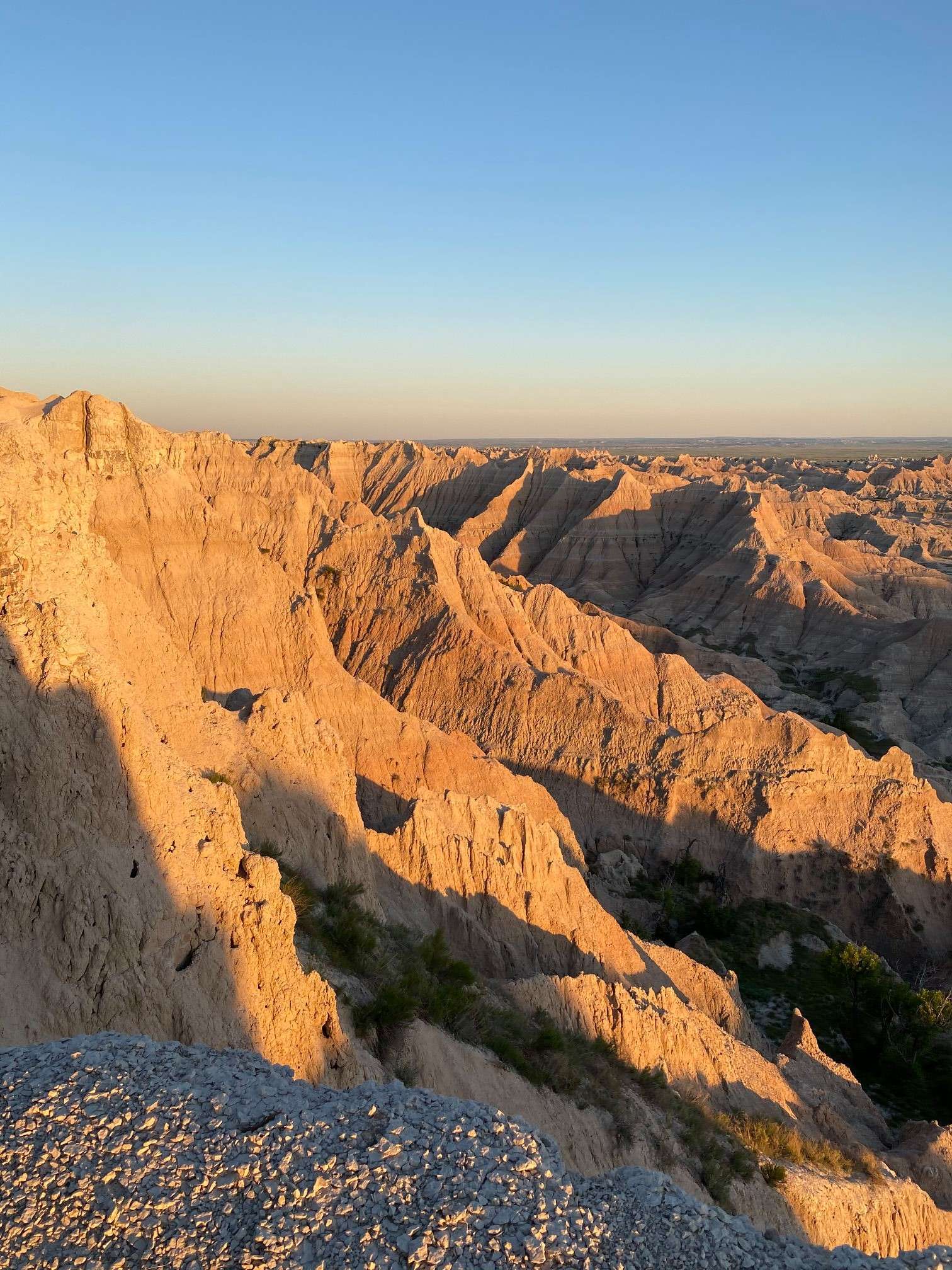 Sunset at Pinnacles Overlook 
In my opinion, this is the best view in Badlands National Park. You get the magnificent formations, the bright rock layers, and some great wildlife spotting. While it gets busy for sunset, we just drove up as the sun was beginning to set. And we were still able to carve out a spot to enjoy the views far away from other groups. So while this isn't a secluded hideout, you can definitely find a place of peace to take in the sweeping views 
Recommendations:
Bruce and I had to skirt past a somewhat sketchy part of the overlook to get a little privacy. If you want to set up in a more open spot, I would suggest getting here early- maybe enjoying a snack while you wait for the grand finale sunset. 
An Afternoon at Wall Drug 
You see the signs for miles leading up to the Badlands, don't you just have to know what it is?! Wall Drug is an oddly charming store(?) made up of many small stores that range from cowboy hats to kitschy souvenirs. We didn't know what to expect when we drove the 40 minutes trek from Badlands, but we are so glad we did. It was a great afternoon and gave us some eating options that didn't involve cliff bars or food in pouches (no campfires allowed in the Badlands!). Bruce even bought a hat here that he loves and used for the rest of our road trip! 
When we were here (during the COVID pandemic) the museums and gift shops in the Badlands were closed. Wall Drug was a great place to pick up a coaster and a post card to add to our collection. If you aren't finding a souvenir you love in the park stores, this place will definitely have what you are looking for.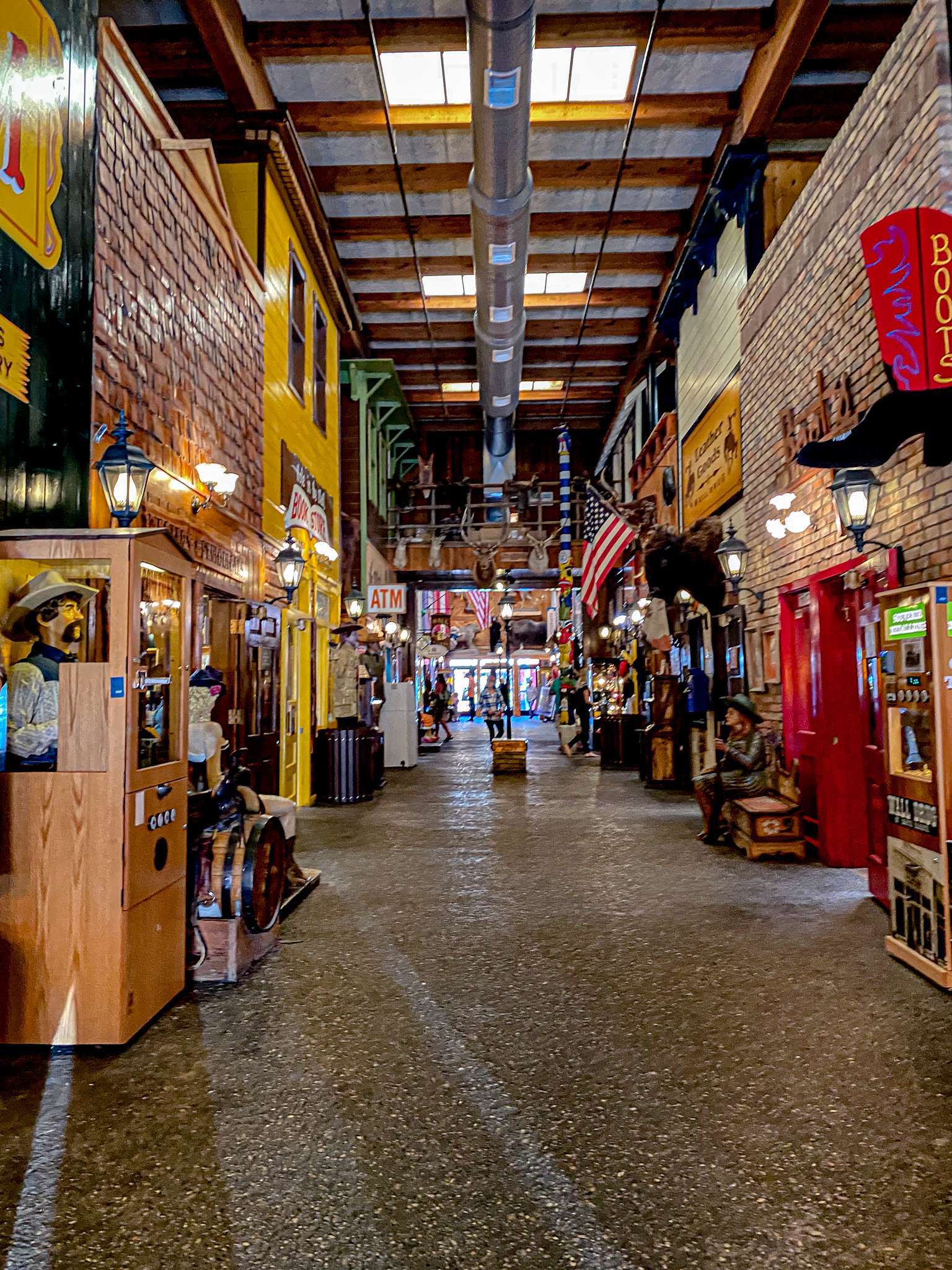 That's a roundup of our favorite activities in and around Badlands National Park. We had 2 nights and 3 days in our Road Trip Itinerary and we were able to check every item off our list! Here's a quick breakdown of our 3 days in the Badlands that you can save for later! 
Visiting America's National Parks? Check out our other Roadtrip Essentials